Before the Open (Sep 3)
Good morning. Happy Friday.
The Asian/Pacific markets closed mixed with an up bias. Europe is currently most up.
Employment numbers are out. Here they are:
unemployment rate: 9.6%
nonfarm payrolls: down 54K (better than expected)
private payrolls: up 67K (better than expected)
average workweek: unchanged at 34.2
hourly earnings: up 0.2%
Futures were flat ahead of the numbers and then surged after the numbers were released.
If you judge the very short term based on the number of stocks trading above their 10-day MA, the market has gone from oversold to overbought in two days. The number of S&P 1500 stocks above their 10 is at its highest level since early March.
So far the bounce we've had off the recent low was easy…the first move is always easy because so many traders are trapped on the wrong side. But for the move to continue, real buying has to take place, and we won't find that out until next week. There are lots of resistance levels above, so things won't necessarily be easy. Here are the SPX and Russell charts. The S&P has minor resistance at 1100 and then major resistance at 1130. The Russell has already gotten back to its high from two weeks ago; it's next resistance level is 640.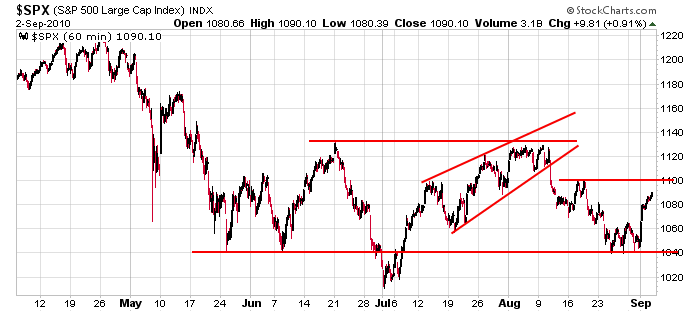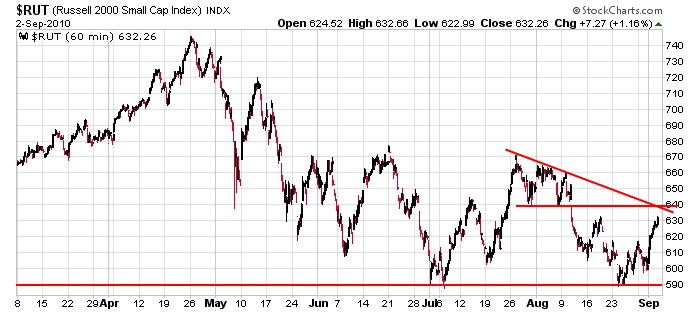 Enjoy the extra day off.
headlines at Yahoo Finance
today's upgrades/downgrades
this week's Earnings Reports
this week's Economic Numbers