Before the Open (Sep 17)
Good morning. Happy Friday.
The Asian/Pacific markets closed mostly up – there were a couple 1% winners. Europe is currently up across the board – gains are small. Futures here in the States point towards a small gap up open, but this could change an hour before the open when CPI numbers are released.
It's been a relatively quiet week. The market gapped up Monday and has traded in a tight range since. Considering the short term overbought nature when the week began and all the econ news released, this isn't a bad thing. The market needed to rest, and instead of resting by doing some backing and filling, it has rested by moving sideways. This means that other than slightly working off the overbought condition, nothing has changed. The market is still very close to the high of its 4-month range, and until we get a forceful breakout, it's not wise to aggressively back up the truck.
Here's my S&P daily. Targets are 1130, 1150 and the high 1170's.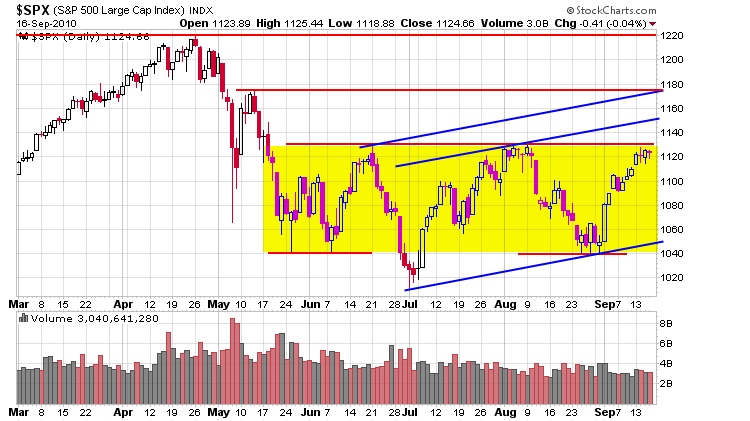 More after the open.
headlines at Yahoo Finance
today's upgrades/downgrades
this week's Earnings Reports
this week's Economic Numbers