Before the Open (Oct 29)
Good morning. Happy Friday.
The Asian/Pacific markets closed mixed with a bearish slant. Europe is currently down across the board. Futures here in the States point towards a gap down for the cash market. This will be the 5th gap open this week.
As of yesterday's close, only 46% of the S&P 1500 were above their 10-day MA. The number was 48% Wednesday. This is the first time since the Aug low the % has been below 50% for two consecutive days.
57% of the S&P 1500 are above their 20-day MA – the lowest reading since Sept 1.
On a short term basis, the market is the weakest it's been since the rally began. This doesn't mean the market is weak, it just means relative to the last two months it's weakish. The numbers need to get lower before an oversold reading is registered.
Here's the SPX 15-min chart I've posted all week. The blue lines have consistently acted as support and resistance, so we need to consider them significant until the index stops obeying them.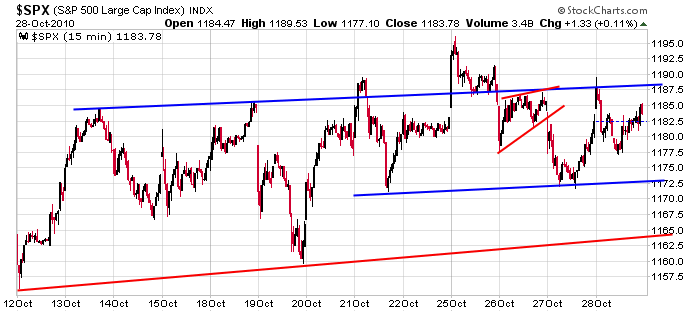 Backing up, here's the 30-min chart. There's an old saying about not shorting a dull market. No problem there, the trend is strong enough that I'm not interested in going short. But I'm not crazy about playing anything but the very best breakouts either because only a small percentage are following through. Downside targets should the market decided to get spooked the next couple days are drawn.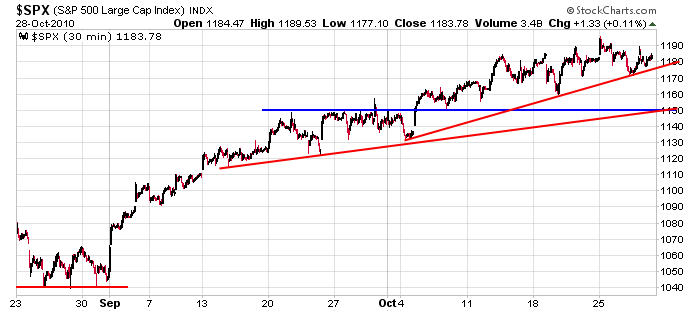 I still see no reason to be super aggressive here. More after the open.
headlines at Yahoo Finance
today's upgrades/downgrades
this week's Earnings Reports
this week's Economic Numbers