Before the Open (Feb 1)
Good morning. Happy Tuesday.
The Asian/Pacific markets closed up across the board – gains were small. Europe is currently mostly up – there are a couple 1% gainers. Futures here in the States point towards a moderate gap up open for the cash market. As of today's open, assuming the futures don't change much, more than half of Friday's losses will have been recovered. Not bad considering Friday was the single worst day since August.
I can't overemphasize that from a technical standpoint the market should have dropped a couple weeks ago, but it has other ideas. Numerous divergences and indicators have been ignored. The normal ebb and flow of the indexes has been nonexistent. So even though Friday should have marked the beginning of a pullback, it doesn't have to. There are forces at work we are not aware of. Also Egypt can trump everything right now. If things settle down there, new highs will be right around the corner. Lesson? – don't assume anything.
Here's the SPX 15-min chart over the last 3 weeks. Despite the two noteable down days (19th & 28th) the index has been range bound and is currently in the middle of the range. More after the open.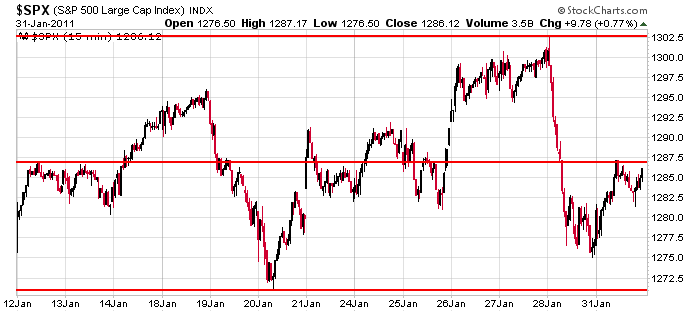 headlines at Yahoo Finance
today's upgrades/downgrades
this week's Earnings Reports
this week's Economic Numbers