Before the Open (Sep 12)
Good morning. Happy Monday. Hope you had a nice weekend.
The Asian/Pacific markets closed down across the board. Hong Kong lost more than 4%…Australia more than 3%…all other down at least 1%. Europe is currently getting hit hard. Losses are in the 2-4% range. Futures here in the States point towards a large gap down for the cash market.
I don't have anything to add to my weekend comments. The overall trend is down (it's been down since early August). The short term trend is down. All the key groups such as the financials and oil the semis are trending down.
Here's the 60-min S&P chart I've been posting for two weeks. Last week started with a big gap down, but the index was in the middle of its range. Hence it had a cushion to work with. This week will also start with a big gap down, but there's no cushion because prices closed Friday near support. Today's open will take out the last two reaction lows and put the index near 1125.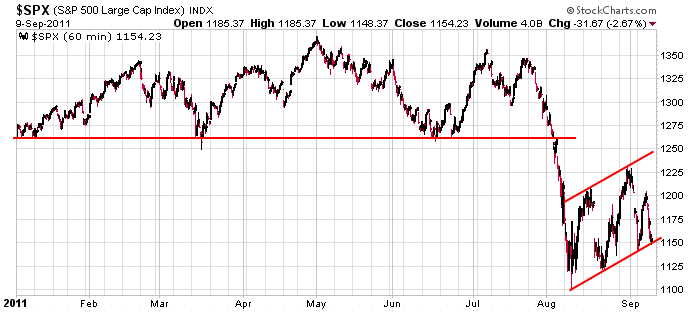 Right now Greece is in the world's crosshairs. If they default on their debt, we could wake up and see the S&P down 100. If they get bailed out, the opposite won't happen, but we will get a nice relief bounce.
One of the problems during the financial crisis here in the States was how connected everything was. Once one domino fell, the entire system unraveled. If the same connectedness exists now, a similar scenario could play out. My S&P target remains at 1000 for now. More after the open.
headlines at Yahoo Finance
today's upgrades/downgrades
this week's Earnings
this week's Economic Numbers