Before the Open (Mar 16)
Good morning. Happy Friday. Happy Quad Witching Day.
The Asian/Pacific markets closed mostly down, but there were no 1% losers. China rallied 1.3%. Europe is currently up across the board. Austria (up 1.2%) is the only 1% mover. Futures here in the States point towards a slight positive open for the cash market.
The US dollar is up slightly. Oil and copper are up small amounts. Gold and silver are down.
Today, contracts for stock index futures, stock index options, stock options and single stock futures (SSF) all expire. Perhaps there will be some odd short term movement, but overall this is an irrelevant day in the grand scheme of things. The trend is solidly up. Many of the indexes made a new high yesterday. The Russell is very close and holds the key. If the small caps can't bust out soon, the large caps will not be able to run much further, but if the small caps can finally break through, well, the odds the uptrend continues will be very hight.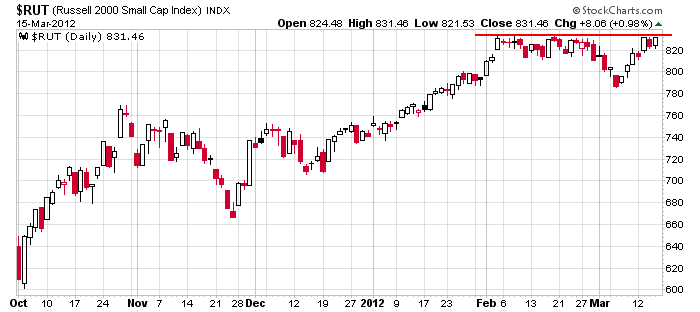 The market is clicking. Financials are doing great. Semsi are close to a new high. Transports are moving up. Consumer-related groups such as travel, gambling and recreational products are at new highs. Don't fight this – even if it doesn't make sense, go with it. More after the open.
headlines at Yahoo Finance
headlines at MarketWatch
today's upgrades/downgrades
this week's Earnings
this week's Economic Numbers