Before the Open (Apr 18)
Good morning. Happy Wednesday.
The Asian/Pacific markets closed up across the board. China and Japan rallied 2%; Australia, Hong Kong, New Zealand and Malaysia rallied 1%. Europe is currently down across the board. Austria, France, Amsterdam and Stockholm are down more than 1%. Futures here in the States point towards a flat-to-down open for the cash market.

The dollar is up. Oil is flat; copper is down. Gold and silver are down.
The market put in a big up day yesterday and closed at its highest level since the unemployment data was released 1-1/2 weeks ago. Here's an update of the 60-min SPX chart. Allowing for a little wiggle room, this chart has bearish implications, but a continuation of the move up right now would neutralize the chart and hint at a large range rather than a break of support followed by a rising wedge.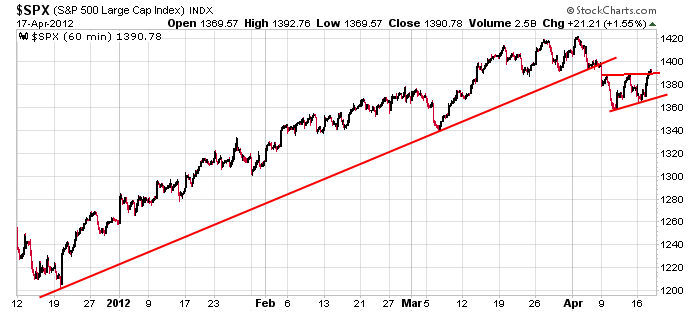 Yesterday INTC and IBM dropped after releasing earnings. Before today's open they're trading down 2.6% and 1.7% respectively.
When the week began there were very few good long set ups to be had and a nice basket of shorts to pick from. Now, two days later, charts of individual stocks have neutralized. There are some shorts and some longs and definitely no clear bias.
Things are not very clear in the near term. We've had some ups and down, and as of now, the market is unchanged over the last five weeks.
Play good defense. More after the open.
headlines at Yahoo Finance
headlines at MarketWatch
today's upgrades/downgrades
this week's Earnings
this week's Economic Numbers