Before the Open (Jun 5)
Good morning. Happy Tuesday.
The Asian/Pacific markets closed mostly up. Australia, Indonesia, Japan, South Korea and Taiwan rallied more than 1%. Europe is currently trading mixed and with a bullish bias. Greece is down 4%; no other index has moved more than 1%. Futures here in the States are flat.

The dollar is up. Oil and copper are down. Gold and silver are down.
Google is buying Meebo, but before the announcement was made, Meebo laid off 90% of its workforce. Ouch.
Starbucks is buying San Francisco based Bay Bread (La Boulange). There are many in the Bay area not happy. They want a ma and pop operation, not Starbucks.
Spain has officially made its first plea to the EU for aid to help shore up its banks.
G7 finance ministers and central bankers are holding an emergency conference call today to discuss Europe.
Australia cut its interest rate by 25 basis points.
No matter how you look at the market, it's in bad shape. But it's not in bad enough shape to support an extended move up. If the market bounces here, it'll get sold into. But if we can get a total washout (new lows spike, put/call spikes, VIX spikes, ATR spikes), then we can get a rally that lasts at least a couple weeks.
Europe still rules. There are lots of cat and mouse games going on. Someone could blink at any time and send the market quickly up or down. The trends (short and intermediate term) are down, but have a plan for all realistic scenarios. What if the market bounces hard? How will you play it?
Here's the S&P daily. It dropped to my target zone (1275-1300) on increasing volume last week. A bounce could certainly play out here, but until it makes a higher high, I'll question whether any move up has legs. More after the open.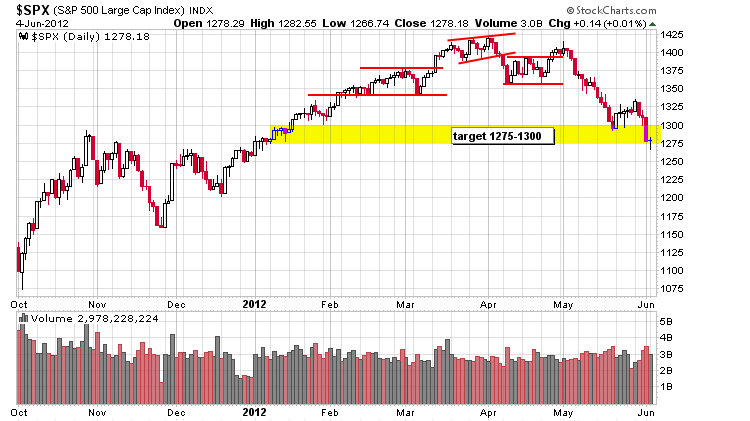 headlines at Yahoo Finance
headlines at MarketWatch
today's upgrades/downgrades
this week's Earnings
this week's Economic Numbers