Before the Open (Aug 24)
Good morning. Happy Friday.
The Asian/Pacific markets closed down across the board. China, Hong Kong Japan, New Zealand and South Korea each dropped more than 1%. Europe is currently mostly down. Austria is down 1.4%, Greece up 1.3%. Futures here in the States point towards a down open for the cash market.

The dollar is up. Oil and copper are down. Gold and silver are down.
Absent a big rally today, the market will suffer its first down week in almost two months (depending on which index you look at). The S&P made a new high; the Dow got close; the Nas an Russell have lagged since their June bottoms, but have done just fine lately. Here are the weekly charts. Given the run over the last three months and the proximity to the highs, a rest is needed. Purely from a technical standpoint, I'd rather see the indexes move sideways or even correct slightly for a few weeks before attempting to bust out. To slide through resistance after rallying a bunch would be difficult to build on.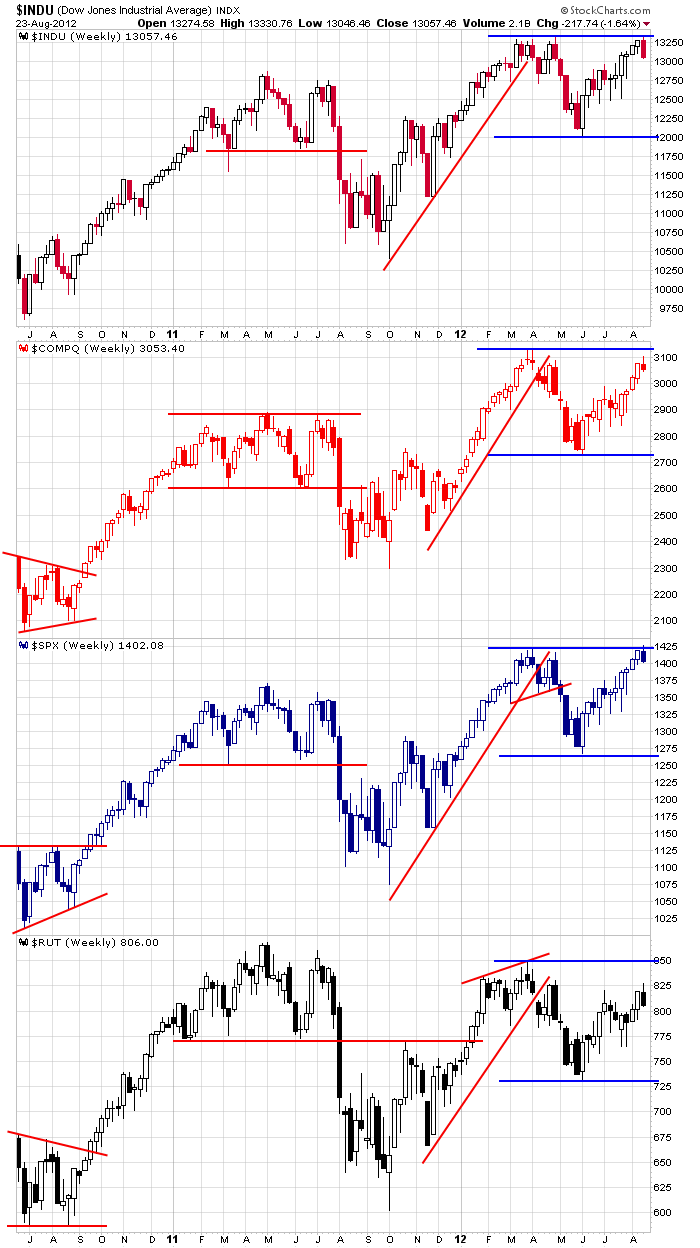 Don't force trading right now. Capital preservation is key. The market is slow right now; we're not getting much follow through. And September is traditionally the weaknest month of they year. More after the open.
headlines at Yahoo Finance
headlines at MarketWatch
today's upgrades/downgrades
this week's Earnings
this week's Economic Numbers