Before the Open (Aug 28)
Good morning. Happy Tuesday.
The Asian/Pacific markets closed mostly down. Taiwan dropped 1.4%; China rallied 0.85%. Europe is currently down across the board. Stockholm and Greece are down more than 1%; France, Amsterdam and Switzerland are also down noticeably. Futures here in the States point towards a flat open for the cash market.

The dollar is down. Oil is up, copper down. Gold and silver are up.
Spanish and Italian borrowing costs declined slightly.
Spain's GDP contracted at a faster pace on both an annual and quarterly basis.
M&T Bank (MTB) is acquiring Hudson City Bancorp (HCBK).
IBM is buying Kenexa (KNXA)
Lexmark (LXK) is closing a plant in the Philippines and cutting 1700 jobs worldwide in a restructuring effort.
PVH raised its profit forecast.
Sally Beauty (SBH) is buying back $300M of its common stock.
Don't over-analyze this market. The ranges are small; the volume is light. We've gotten some decent set ups to play, but we're not getting much follow through. Being content with a couple points here and there is winning attitude right now. If you bargain for more, more often than not you give gains back. Here's the 5-min S&P chart over the last month. Other than the quick vertical move at the beginning of the month, the index has spent more time spinning it wheels than covering ground.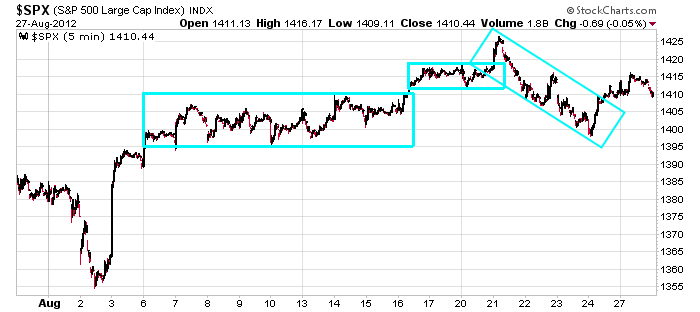 Bernanke speaks Thursday. It could be a market mover. More after the open.
headlines at Yahoo Finance
headlines at MarketWatch
today's upgrades/downgrades
this week's Earnings
this week's Economic Numbers