Before the Open (Sep 9)
Good morning. Happy Thursday.
The Asian/Pacific markets closed mostly up, but gains were small. Europe is currently up across the board, but gains are small there too. Futures here in the States point towards a positive open for the cash market.
Today is rollover day for futures. If you trade the ES, trade the Dec contract.
After a big move up last week, the market has moved sideways this week on light volume, but the "all or nothing" character of the market has continued. Of the last 12 days, advancers or decliners have led the other by at least 3-to-1 11 times – advancers led 6 times, decliners 5. Only once there was a 1-to-1 day. My guess is it's all the computers trading – once the market starts moving in one direction, it keeps going as the computers pile on. Several years ago I would have said this is bearish. When the market has these wild swings, it usually wasn't a good sign, but nowadays, given the extent of automated trading, I'm not sure how to read it…if I should read it at all.
As stated yesterday, the bulls should be tested soon. They've done well to hold things up the last couple days, but volume has been weak. The excuse on Tuesday was that it was the first day back after a holiday weekend. The excuse yesterday was that it was a Jewish holiday. What will be the excuse today? Volume needs to pick up some.
Another thing that has to "pick up" is the semis group. I'm seeing some strength, but we need more. The group doesn't have to lead, but it can't continue to lag. The market goes nowhere unless the semis participate. More after the open.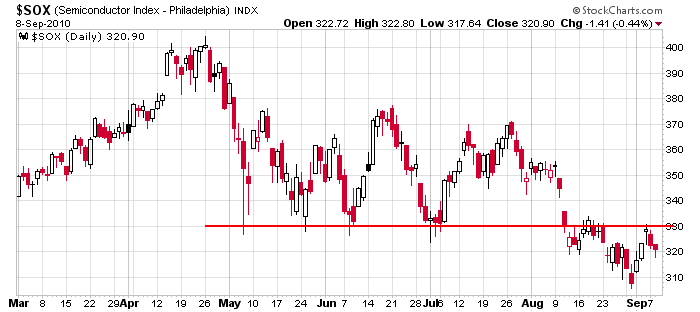 headlines at Yahoo Finance
today's upgrades/downgrades
this week's Earnings Reports
this week's Economic Numbers