Before the Open (Sep 13)
Good morning. Happy Monday. Hope you had a nice weekend.
The Asian/Pacific markets closed up across the board – there were several 1 & 2% winners. Europe is currently up across the board – solid gains posted there too. Futures here in the States point towards a large gap up open for the cash market.
Last week the market moved up 3 of 4 days, but volume was light. I said the entire week the bulls had some proving to do, and they still do. I liked the movement, my bias remains to the upside, but given the time of year and proximity to resistance and the lagging small caps, I want proof larger entities are buyers.
There's no reason to repost charts from over the weekend, so here's a different one. Over the last year, there has been a strong tendency to bottom at the beginning of the month and then flatten out or drop near mid month. This month has matched the pattern so far. Options expiration is this Friday. More after the open.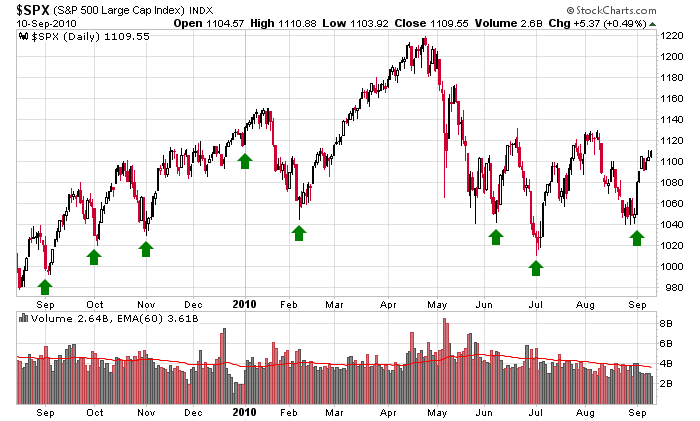 headlines at Yahoo Finance
today's upgrades/downgrades
this week's Earnings Reports
this week's Economic Numbers